If you're interested in trails and conservation in Brevard, North Carolina; you should consider Sylvan Habitat in Transylvania County. Located conveniently close to Asheville NC and Hendersonville NC this trail and conservation development with just 44 lots on 555 acres gives the chance to live in a park of your own. Sylvan Habitat offers over 5 miles of trails and over 200 acres of conservation areas. This is a wonderful place to live, retire or enjoy vacations. If you are considering Brevard, North Carolina real estate; Sylvan Habitat offers the perfect location only five miles from downtown Brevard. And one of the trails goes directly into DuPont State Forest.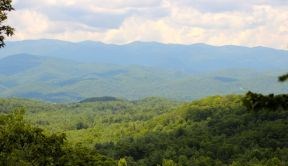 Sylvan Habitat is blessed with more than 12 sparkling mountain streams, waterfalls and great views of the Blue Ridge Mountains to the Northwest and the Saluda Mountains of South Carolina. A ridge cuts diagonally through the property defining forested valleys on either side. Southerly and easterly exposures predominate giving you the morning sunshine and the warming winter rays. Altitudes range from 2700 to 3100 feet.

Dr. Fekete of Atlanta took each and every site into consideration to be sure not only was there a premier home site, but one that took into consideration property land management ideals with modern technology. Most if not all of the sites range from a couple acres to almost 40 and all have to some degree some of the finest views ever to be offered in the Brevard area.

Jay & Jewell Kaiser are extremely passionate about real estate. We make it our daily goal to strive to be the very best real estate professionals in the Brevard, and Western North Carolina area. This requires us to be the most informed professionals in our market area... In today's market, it is so very critical to stay abreast of new technology tools, changing laws and industry rules.

"You are the most important person in our business and we don't take it lightly!" So give us a call today Jay (828) 421-0375 or Jewell (828) 421-8376.